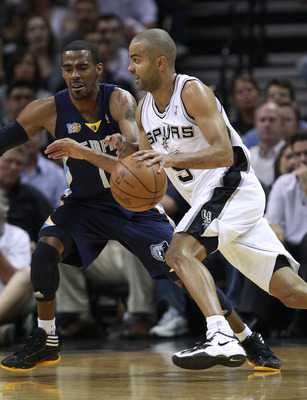 Tony Parker potentially coming to New York has long been a rumor, though it was put on the back burner for awhile, especially after he inked a four year, $50 million dollar extension with San Antonio last season.
However, during the days leading up to the NBA draft, the Spurs assumed the role of the person who makes a decision the night before and wakes up instantly regretting it. San Antonio was rumored to have been shopping Parker once again.
We all remember last Summer when Amar'e Stoudemire openly admitted to the media he had spoke with Carmelo Anthony and Tony Parker, and they were prepared to join him in New York.
The aforementioned event, probably the reason the Knicks are mentioned as a potential destination now that the Spurs are shopping him again.
Moving away from the puzzling the decision of the Spurs to sign Parker to an extension and then decide to trade him, this trade does not make much sense for the Knicks.
Even Tony Parker openly addressed the rumors in a video via the New York Post, and he said he does not envision himself in a Knicks uniform.
But still, the speculation continues.
The headlined trade is only an estimate of what it would take to get Parker. There are so many potential deals that have been thrown around, but this is one of the more realistic one. However, it is possible the Knicks would have to take on, or get a third team involved to take on the contract of Richard Jefferson.
Why doesn't this trade make much sense for the Knicks?
Parker would arguable complete New York's "big three" formation, but for how long would they be a "big three"?
Last season, Parker averaged 17.5 points, 6.6 assists and 1.2 steals per game, which are very solid numbers. There is no doubt that he would be an upgrade over Billups, especially on the defensive end.
However, the Knicks would find themselves relinquishing youth in exchange for age in this deal. Parker will be 30 next May, and who knows where his game will go from there. And if it turns out he is one of the players who begins their rapid decline at 30, the Knicks would be on the hook for another three years.
Landry Fields and Toney Douglas may never reach Parker's level, but they have not yet reached their full potential, and to trade them for a player who may be past his prime is too much of a risk.
If New York is to package both Fields and Douglas in a deal, they need to make sure they are getting back more than someone like Parker.
A Parker deal becomes a bit more sensible if the Knicks can hang on to either Fields or Douglas. But at the same time, it is not very sensible to make such a deal if Chris Paul's and Deron Williams' situations are not resolved.
[ Source
BleacherReport
]