Mike Ehrmann/Getty Images
(1) LeBron James
is regarded as one of the greatest in the league today and for good reason. He has two MVP awards and has made it on to seven All-Star teams, five All-NBA First teams, and three All-Defensive First teams. He has also led two teams to the NBA Finals most recently this past season as a member of the Miami Heat.
However, James hasn't made many friends outside of the city that he currently plays for. Over the course of his eight year career, LeBron has repeatedly put his foot in his mouth. He's one of the best in the NBA and he knows it and he makes sure that everyone else knows it as well. James' ego has sometimes done the talking for his game more than his actual game.
The main reason for the hate of LeBron James however is what he did this past summer. He was a free agent and was being wooed by his own Cleveland Cavaliers, the New York Knicks, Miami Heat, and New Jersey Nets to name a few teams. Each team could offer a max contract, but none could offer the supporting cast that Miami had. With Dwyane Wade and Chris Bosh already signed, James made the obvious choice and picked Miami.
This didn't go over well with Cleveland, whose fans went on to burn his jerseys and any sort of memorabilia that they possessed. It didn't go well either with the fans of just about every other team not named the Miami Heat. Teams like the Knicks had dropped salaries just to have a chance to obtain James during the summer of 2010. It was also believed that they were regarded as front runners prior to the day of the decision.
James also didn't tell anyone in the Cavaliers organization that he was planning on leaving. They found out at the same time everyone else in America did.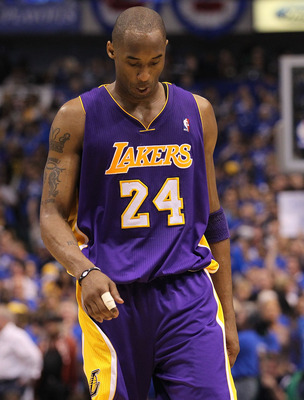 Considered as one of the best to play the game,
(2) Kobe Bryant
has a resume that just about every player in the league today can only hope for by the time they're 31 years old.
While Bryant has been a part of five championship teams, winning two Finals MVP's, he has earned hate from just about any fair weather fan that has partaken in viewing an NBA game. On the court, we look at his inability to believe that not every shot should be taken. The Los Angeles Lakers look to Bryant during crunch time, he is the best in the league, but at times he could pass it up to the open man for the higher percentage shot.
Off the court is where Bryant's real troubles begin. His highly publicized feud with Shaquille O'Neal has been one of the key reasons to why critics detest Bryant as it is believed that he was the one responsible for running him off the team. Bryant and O'Neal butted heads on a number of occasions with Kobe claiming that O'Neal showed up to camp overweight and out of shape, while Shaq constantly criticized Bryant for his inability to pass.
Bryant was also accused of rape in the summer of 2003. The trial lasted a year before it was eventually throw out due to the defendant refusing to testify. Kobe lost a number of endorsements and the admiration of many of his fans from outside of Los Angeles.
Kobe was also caught on an amateur video saying that the Lakers should have traded Andrew Bynum when they had the chance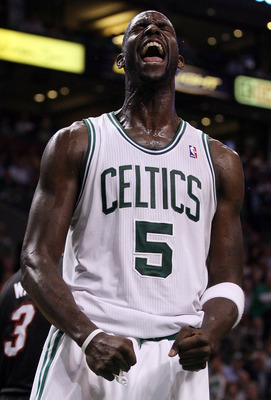 A true warrior of the hardwood. There aren't many players in the history of the NBA that have brought as much emotion and intensity to the game than the Boston Celtics
(3) Kevin Garnett
. After years of hardship with the Minnesota Timberwolves, Garnett joined the Celtics and has since led the team to their first championship in over two decades.
Sometimes, Garnett brings too much intensity to the game. He is known to throw a dirty screen on pick and rolls from time to time and can sometimes take cheap shots. The main gripe about Garnett however is his tendency to pick on smaller, whiter players.
He harassed a 6'3" point guard in Jose Calderon, took a cheap shot on 5'11" J.J. Barea and then shoving a referee in the same sequence, and did some questionable taunting to 6'3" guard Jarryd Bayless. Garnett seems to back down from confrontation when it comes to bigger players, but has had no problem in taking on players that don't have anything near a height advantage on him. He also made Glen Davis cry. Now that's intensity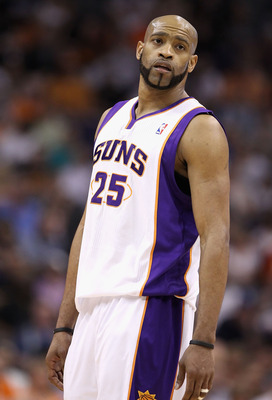 An elephant never forgets and neither does the fan base of the Toronto Raptors.
(4) Vince Carter
was dealt to New Jersey in 2005 and he is still relentlessly booed when he returns to the unfriendly confines of Toronto. Carter was beloved by the Raptors the moment he stepped on the floor of the Air Canada Centre. His high-flying aerial assaults won the crowd over and the team even saw some success as Carter led the team to their one and only Semi-finals appearance, as well as a 47-35 season.
Once 2004 came however, Carter grew annoyed with the way the organization was being run and began demanding moves to be made. The organization told him that they would pursue quality players like Steve Nash and Jamaal Magloire, but instead drafted Rafael Araujo. That would be the final straw for Carter who basically shut it down for the final few games that he spent in Toronto.
It didn't end there. Not even close.
It seems that every time Carter returns to Toronto, he finds a way to depress the good people up north. During his time with New Jersey, he had game tying and game winning shots in one return North of the border and also made a game winning three-pointer following a missed free throw by Jose Calderon.
Cold-blooded.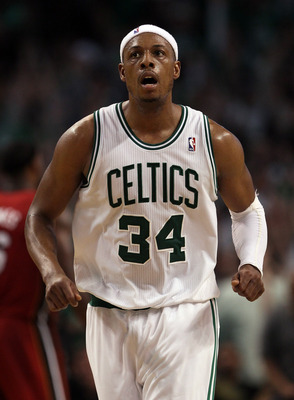 So LeBron James gets criticized for being arrogant, but
(5) Paul Pierce
gets off free despite claiming that he was the best player in the world? A bit of a double-standard if you ask me.
Pierce has been a lifer with the Boston Celtics through the good and bad teams and deservedly won his first and only championship in 2008 when he and his newly formed team beat the Los Angeles Lakers in six games. Paul won Finals MVP, but was most remembered during that series for suffering an injury early in the third quarter of game one and needing to be carried off. Pierce returned a few minutes later and led the Celtics to a game one victory.
By returning, Pierce was able to inspire his team and the crowd and the Celtics were able to eek out the victory. It remains questionable if the injury was truly that series considering Pierce was playing better than ever following the injury.
Pierce was a bad winner to say the least. Following his three-point contest victory, he went on to say that he should have been known as the greatest shooter to ever play the game of basketball. He felt that if he took as many three-pointers as should, supposedly six or seven per game, then he would truly be regarded as the best shooter.
He's averaged over four three-point attempts per game on 37% shooting. Move aside, Larry Bird.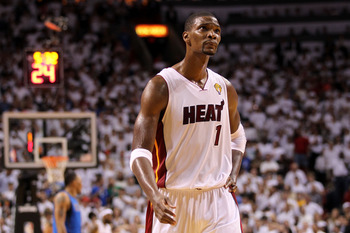 (6) Chris Bosh
was scrutinized all year by critics from across the NBA world, but it doesn't mean that he was hated. Bosh was mostly used as the butt of a countless number of jokes dealing with his passive style of play, as well as his inconsistencies. However, Bosh was one of the most consistent players in this years post season for the Miami Heat as he averaged 19 points and nine rebounds.
Bosh is hated the same reason why Vince Carter is hated: he built up the Toronto Raptors only to leave once the organization proved that they weren't going to get him any help. Bosh had led the team to their first division championship and tied the franchise record for wins in a season with 47, but was ready to jet as soon as he was on the free agency market.
The Heat made two trips to Toronto and Bosh played in one game. He was booed for most of the game, a game that the Heat would win thanks to Chris's 25 points and six rebounds. Bosh would blow kisses to the Air Canada Centre crowd following the end of the game.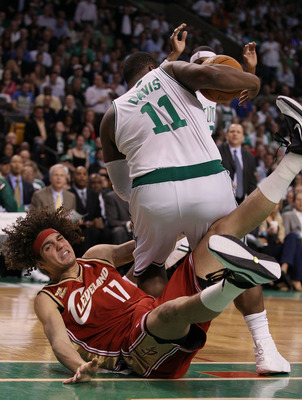 What you see to the left is the exact reason why most NBA fans do not care for Cleveland Cavaliers forward
(7) Anderson Varejao.
The Brazilian product is a quality rebounder and defender for Cleveland, but he's mostly utilized his his ability to get inside the head of the opposing teams players. Varejao is a notorious flopper and sometimes falls at the slightest sign of contact no matter the size of the player that is causing the contact. He's a nuisance on the court, but it's his job and we have to respect it for some reason.
Anderson does a quality job at making opponents think twice of driving because of his tendency to flop, but sometimes it's a bit excessive and can sometimes interrupt the flow of the game.
In an international game against Greece, Varejao blatantly elbowed an opposing player in the face and then walked off as if he never committed the foul.
At least Dwyane Wade wasn't worried to be called for a charge.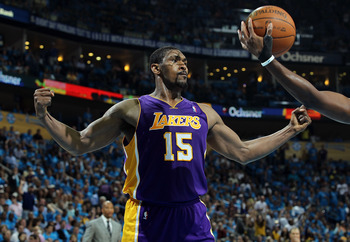 Since leaving the Indiana Pacers,
(8) Ron Artest
has toned it down. In fact, he has actually become one of the NBA's best characters and is known for kissing his biceps after making a big play. His twitter account is also one of the funniest to follow.
Despite winning a ring, and being one of the main reasons for that, Artest's career will mostly be remembered for his role in one of the NBA's most infamous brawls between his Pacers and the Detroit Pistons. With the Pacers up by 15 and only 50 seconds remaining, Artest committed a hard foul on Ben Wallace. 'Big Ben' responded by shoving Wallace which led to both teams converging near the scorers table.
Artest laid splayed out on the scorers table to avoid anymore confrontation. It was at that point when an asinine Pistons fan decided to throw a soda at the 6'8", Queensbridge born behemoth. Ron ran up a few rows into the stands and began throwing punches at the wrong fan. Pistons fan immediately ran over to pull Artest off the fan, but another Pacer ran into the stands to aid Artest amongst the flood of Detroit faithful.
It spilled onto the court where a number of Pacers and a few more fans got into several altercations before the Pacers were eventually taken off the court under a myriad of boos and overpriced stadium food. Artest would be suspended for the rest of the season and would eventually be traded to the Sacramento kings.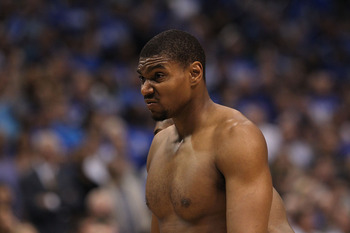 Your popularity is sure to take a hit once you start making plays like these.
It doesn't help when your popularity with your own team isn't that high either. Los Angeles Lakers center
(9) Andrew Bynu
m is still attempting to find ways to fit in with the team and is trying to be the center that the organization has been banking since 2005. He has dealt with injuries for just about every season, but still has yet to truly perform up to standards.
Bynum has also had run-in's with Michael Beasley and broke the ribs and collapsed the lung of Gerald Wallace.
Truly a class act.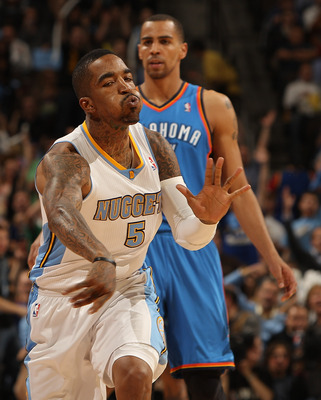 Possibly one of the most dangerous three-point shooters in the league today, Denver Nuggets forward
(10) J.R. Smith
is capable of going off at any given moment from anywhere beyond the arc. He has career highs of 45 points and 11 three-pointers in one game, one short of tying the NBA record of 12 for a game.
Aside from his shooting prowess, Smith possibly has the poorest attitude of any player in the league today. He played a large part in the bench clearing brawl between his Nuggets and the New York Knicks and was suspended ten games for his role. Along with the altercation, Smith has also been the root of a number of internal problems within the Denver Nuggets organization.
Coach George Karl grew frustrated with the way Smith would sometimes give up when the going got tough. He wouldn't run the plays that Karl designed during the 2007 post season and improvised his own absurd plays on a number of occasions as well.
By John Friel (Heat Featured Columnist)