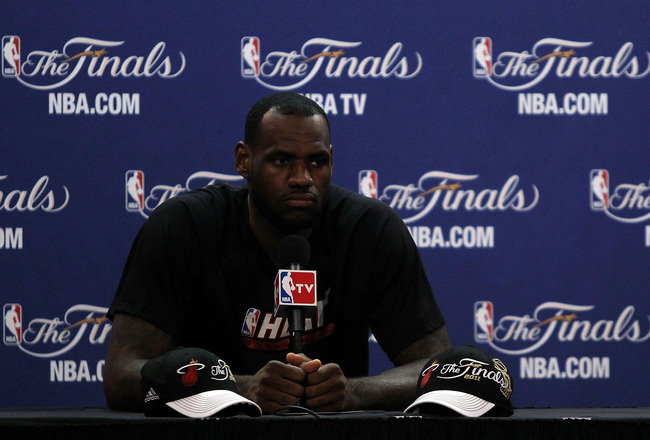 Chris Chambers/Getty Images
By John Friel (Heat Featured Columnist), For someone whose jersey was still one of the most sold, LeBron James warrants more hate than admiration by his viewers.
That even includes the city of Cleveland where he saw his tenure with the team end by way of seeing anything with his face or affiliation plastered over it. Following "The Decision," disappointed Cavalier fans spent the ensuing night destroying any bit of James' memorabilia they could find as if he was a social pariah that was going against the norms of society. He had become a public enemy, and the city that formerly idolized him was now cooking up ways to make their voice felt when James returned to the city in early December.
Not only was the city of Cleveland disappointed in James' decision, but there were a few other teams that felt they had come up short on the LeBron James sweepstakes as well. Teams like the New York Knicks, New Jersey Nets and Chicago Bulls all made significant efforts to try to sign James, only to come away with far less than they were asking for.
A few of the teams involved had overhauled their roster and had been tanking games for years as an attempt to grab James.
Even cities that were not significantly involved in attempting to obtain James were trying to make their presence felt. When the season started out, LeBron was getting jeered in any city he went to—unless he was making a highlight play, and then the crowd suddenly changed their opinion of him. He was going to cities such as Memphis and Minnesota and was getting lambasted with hate from the crowd there as well.
People weren't hating LeBron James because of the decision he made. People didn't like LeBron James because he either wasn't on their team or because everybody else was doing it. The hate was contagious and it continued when the Heat started out 9-8 before picking up again in March after James and the team dropped five straight and lost the No. 1 seed for good.
Nobody outside of Cleveland had a true reason to hate LeBron, it was only what everyone else was doing.
Yes, society wasn't a fan of LeBron James because that's what was accepted at the time. Nobody seemed to accept the way that James left the city of Cleveland behind, and they were making him know anytime he stepped in the building of an opposing team. No one wanted to accept that this was the smart move by James, and they still won't to this day even though he came the closest he's ever been to a championship since joining the league.
Some of James need to face facts and realize that this was a business move, and James isn't one to stick around and wait to see what happens. He gave the Cavaliers seven years to make a significant move, and the biggest they could make was signing a 36-year-old Shaquille O'Neal and an even more ancient Antawn Jamison. They didn't sign anyone that offseason, and they weren't going to if he managed to stay around.
After two seasons of postseason disappointment after winning 60 plus games, there were plenty of reasons for James to split. He might have let the city down, but it's LeBron James' life, and he needs to live it for himself and not others who would only limit his success just to see him stay in their city. You could guarantee that if James were still on the Cavaliers, he'd just about be in the same position that he is now.
Joining Miami was the smartest move he could make.
They didn't offer him as much as the other teams contending for him did, but they offered talent and success and that was all that was needed to convince James to jump ship for the Heat. They already had Dwyane Wade and Chris Bosh and would still have money to sign other key role players if James would sacrifice a few million for the purpose of success.
So, we hated James for his decision. We hated him, and the Heat's preseason celebration. The 9-8 start. The 21-1 December. The dreadful March. His early postseason success. His late postseason success and finally the end of the postseason, where James warranted more criticism than ever before after basically being a no-show for the final five games of the NBA Finals. The hate had returned, and it was stronger than ever.
It was that strong because James had failed, and people were happy about seeing that. They didn't want to see the new super team take home a title, and they certainly didn't want to see LeBron James with one either. Knowing that James was right and the criticism was wrong would only make those that made negative statements about him look foolish, which they are anyway win or lose.
As a member of the Cavaliers, James had at least garnered the love and admiration of Cleveland and any fair weather fan of highlights and success.
Now that he is a member of the Heat, James isn't feeling the same warm feeling that he had received when he was beloved by the nation and not cast out to be the modern-day Darth Vader that was hell-bent on destroying anything good when it came to basketball.
James wasn't anybody's hero. He was the villain. LeBron was a villain through and through, and he needs to come terms with that. Until he wins a championship, he's not going to receive the same reception that he was with Cleveland. If you didn't notice following the conclusion of the Heat's series against the Chicago Bulls, LeBron wasn't receiving nearly as much hate and criticism when he was failing.
It was mostly because there was nothing to hate and also because you need to respect greatness sometimes. LeBron James was playing some of the best basketball of his career and those who had formerly criticized him were now becoming his biggest fans since they were convinced that he had made the right decision.
Once the Heat lost however, it had returned and it was more prevalent than ever.
James needs to realize that he shouldn't be playing to silence anyone, but to play for himself and his team and nobody else. The best way to respond the constant criticism would be to let his game do the talking and allowing the success to prove everyone wrong. He doesn't need to directly address any of these critics in postgame interviews and he certainly doesn't need to answer questions that are directed only to criticize him.
If LeBron wants to accept the role of villain, he'll go out next season and help the Miami Heat steamroll over the entire league. He'll prove that joining the Heat was the right move, and he'll prove it by leading the team to success in the regular and postseason. There shouldn't be a switch that gets turned on solely in the postseason.
James needs to go out every night and play the way that he think he should play.
LeBron isn't going to garner the same sort of love and reception that he received in Cleveland. So, rather than looking for ways to receive respect from the people that only want to criticize, he needs to play in a way that gives himself respect. He's not being any sort of quality villain by scoring eight points in the most crucial game of his career, and he's not going to become one by not backing up talk at the biggest stage of his career.
The criticism and the hate isn't going to stop, so LeBron needs to accept that some people are just not going to like him.
Next season needs to be the beginning of a new LeBron James. A LeBron James that isn't going to actually listen to what people think about him. The last time James cared about what other people thought about him, he lost the NBA Finals because of it.
For next season and the rest of his NBA career, James needs to accept the role of a villain. There are fans of 29 other teams that don't care for him, and he needs to let each and every one of them know that he does not care what they think by going out and playing quality basketball on a nightly basis.
The switch should always be on, and James needs to use success as his ultimate weapon.